New research from BYU shows that parent interventions are instrumental in helping autistic children develop social and communication skills. (Nate Edwards, BYU)
Estimated read time: 4-5 minutes
PROVO — Children with autism benefit significantly when parents are trained to implement interventions at home, according to a new study from researchers at Brigham Young University.
Children with autism spectrum disorder will start exhibiting characteristics as early as their first year of life. Clinical recommendations often call for intensive services to help the child develop socially and mentally. Obtaining this intensive intervention, however, can be difficult for many families due to cost, time, distance and access to services.
Parent-implemented interventions are an increasingly popular alternative to helping children with autism develop, the BYU research publication notes. These interventions require that parents go through professional training so they are informed and able to assist their own children with developmental disabilities. The parent-child connection, researchers found, also helps kids feel supported, increase their communication and social interaction.
Timothy Smith, researcher and professor of counseling, psychology and special education at BYU, said this publication was a summary of 51 studies from scientists around the world.
"Because those results vary, sometimes people don't know what the actual overall finding is. By aggregating all of those other studies, we were able to show, conclusively, that parenting interventions absolutely benefit children with autism," Smith said.
Parents with children with disabilities, including autism, want to help their children succeed in life and have a very strong desire to promote the welfare and well-being of their children, Smith said. However, sometimes parents lack the knowledge and training professionals have, so they're uncertain and at times unable to provide their children with the best outcomes that they would wish.
When parents get training from professionals, they gain the ability to help their child in four areas:
Communication
Decreasing problematic behaviors
Social skills
Life skills and adaptive behaviors
Early on in life, children with disabilities have a harder time expressing their needs and can act out in perceived problematic behaviors. Through parent training and intervention, parents are able to help their child learn how to communicate their needs so the parents can then meet those needs.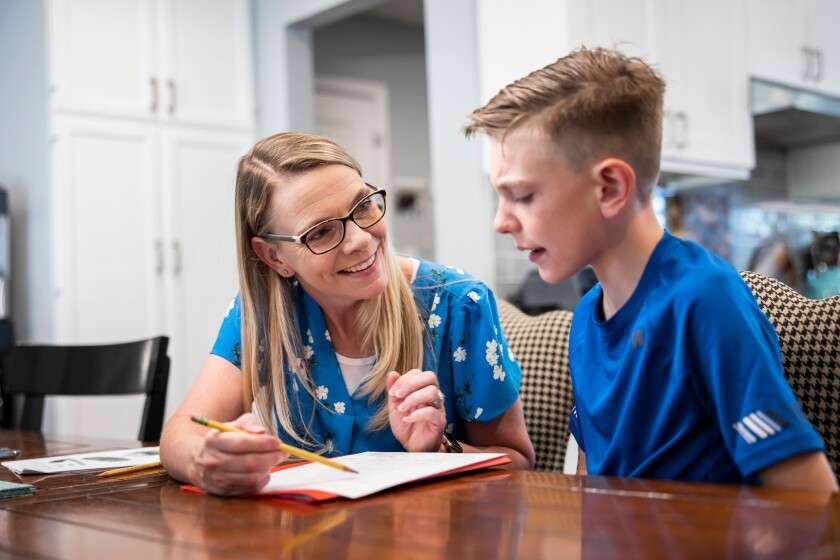 Children whose needs are met are less likely to act out with problematic behaviors, Smith said. Not only are parents able to prevent some behaviors through intervention, but with training they also learn how to manage their child's behaviors and use positive reinforcement so the child can benefit and improve interactions with others.
Social skills, such as making eye contact, responding to questions and interacting with others, are developed through coaching and modeling. These skills can be harder for children with disabilities to learn, and having a parent trained gives the child personal and specific coaching to aid them in the development process.
The last area benefited by parent interventions is life skills and adaptive behaviors which includes self-care, brushing teeth, dressing themselves, washing their bodies and other necessary skills.
"This research should empower parents. Parents want to help their children and this research affirms that when they do, their children have greatly improved outcomes," Smith said.
The research provides hope for parents who feel discouraged they don't have time, abilities or understanding to provide for their child, Smith said. Parents can seek out professional training which can be as little as 1½ hours a week for 13 weeks, and their child will experience markedly improved outcomes.
---
This research should empower parents. Parents want to help their children and this research affirms that when they do, their children have greatly improved outcomes.
–Timothy Smith, BYU professor/researcher
---
Smith said he hopes pediatricians, researchers, social workers, community specialists and parents come together to support home-based interventions and work as a team.
"The focus should no longer be on what can the professionals do to help the child but rather what can the parents and professionals do together to help the child," he said.
Smith said he hopes society realizes the importance of children with disabilities.
"Society needs children with disabilities — particularly children with autism. Their talents to see different things are being underutilized. The more we as a community can see the benefits, the advantages of having children and adults who think differently than the norm, the more we are going to benefit," he said.
Intervening early for children with disabilities sets them up for an improved lifelong trajectory, Smith said. Children with disabilities benefit society to the "degree that we include them."
He hopes public policy and educational policy can shift to explicitly support parents and integrate parents into the work and services provided for children with disabilities.
"Families are important for many reasons and it turns out research emphatically supports that. The amount of time, the affection and strong relationships that parents have are unequaled and we can't rely on professionals to match what already exists in the home," he said.
×
Photos
Related stories
Most recent Utah K-12 education stories
More stories you may be interested in
https://www.ksl.com/article/50488039/training-for-parents-crucial-in-helping-children-with-autism-develop-byu-study-shows