Here are today's Ottawa Sun letters to the editor.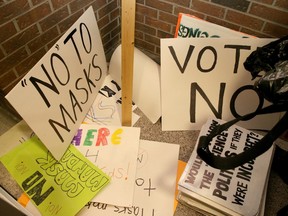 Article content
NO NEED FOR THAT
Article content
Re: Anger unmasked; School board meeting explodes over masks, Nov. 24
Article content
To you parents who were name-calling and threatening trustees, you sure have shown your true colours. Maybe your kids should have gone to the meeting instead. Maybe they would have behaved better (or not, depending if you are teaching them to act like you). I am a great-grandparent who has great-grandchildren with weak immune systems, and they need that added protection of a mask.
I hope it never happens, but if your kids wake up and can't breathe and hospital rooms are full and there is no staff because they are also sick or are just worn out from working overtime, what will you do then? I think you are being very selfish; we have had a hard two years, but maybe we can make it through the next couple of months and 2023 will be better.
Article content
We have to try.
HEATHER THOMAS
OTTAWA
(There's no place for that behaviour anywhere.)
DESPICABLE DISPLAY
The ability to properly parent and teach children is again seen as instrumental in a society overwhelmed by narcissistic and entitled behaviours. The behaviours shown at the Ottawa trustee meetings were a despicable display of selfish ignorance and idiocy perpetrated by an inability to care for others. Threatening doctors, children's hospital administrators and school leaders represents a failure to understand proper parenting skills of the past.
I suggest mandatory parenting classes from Grade 3 to Grade 12 that incorporate responsibilities to others as well as selves. The classes would help future generations. Unfortunately, today entitlement has become entrenched in society and has become the sanctuary of conspiracy theorists.
Article content
PATRICK MASON
OTTAWA
(Sounds better than the old "take care of an egg" for a week course.)
JUST HAVE FUN, SENS
Hey, Ottawa Senators, you have all the seeds of a future great hockey club. Stop worrying about the playoffs, stop worrying about the fans, true Sens fans will stick with you. Clear your heads, think about the game strategies, go out and play, and remember to have fun! The wins will come; who cares if the playoffs are this year or next?
LES SWERDFEGER
NEPEAN
(Here's to that!)
'I GOT NO MEMORY'
When the Liberals were asked questions at the Emergencies Act inquiry, they would mostly respond with, "I don't remember." I personally protest! But I can't protest for fear of being arrested (and possibly being trampled by a horse). I was hoping to start a GoFundMe page for amnesia pills. (Oh, well.)
Article content
It's a wonder the Liberals didn't use the Rip Van Winkle defence: "Mr. Chairman, we have been sleeping for the last six years!" The inquiry theme song should have been, "I don't remember, I don't recall, I got no memory of anything at all," by the great Peter Gabriel.
TERRY TOLL
CAMPBELL'S BAY, QUE.
(Sudden onset amnesia seems to be a thing these days.)
READER SHOT WIDE
Re: No job, no chance, letter, online edition, Nov. 24
The reader (responding to the NHL commissioner saying Mitchell Miller, who admitted to past bullying and racial abuse, was not eligible for the league) is missing the point that most all employers hold their own code of ethics as to what is deemed acceptable behaviour, past or present. Speaking as a veteran, the Armed Forces and police are two prime examples. I would hazard a guess that the Sun has its own code of ethics as well.
Should Mr. Miller not be "acceptable" to the NHL's standards, that is unfortunate. Get a job elsewhere.
We have all made mistakes that have closed doors for us in our past, personally or professionally. Lesson learned.
PAUL BAUER
GLOUCESTER
(And an important lesson indeed.)
YOU SAID IT: Just tear it down

YOU SAID IT: Gun truth is out
https://ottawasun.com/opinion/letters/you-said-it-no-need-for-that